Our subscriptions > Companies



CERTIFIED TRAINING COURSE IN BUSINESS ENGLISH
Gymglish PRO is a professional training program for learning English online. It is accredited for corporate training plans. Gymglish offers a variety of flexible subscriptions to accommodate the various agreements and arrangements between employees, companies and social partners.
Gymglish has been used by more than 6000 companies around the world.

More >
Certification & Diploma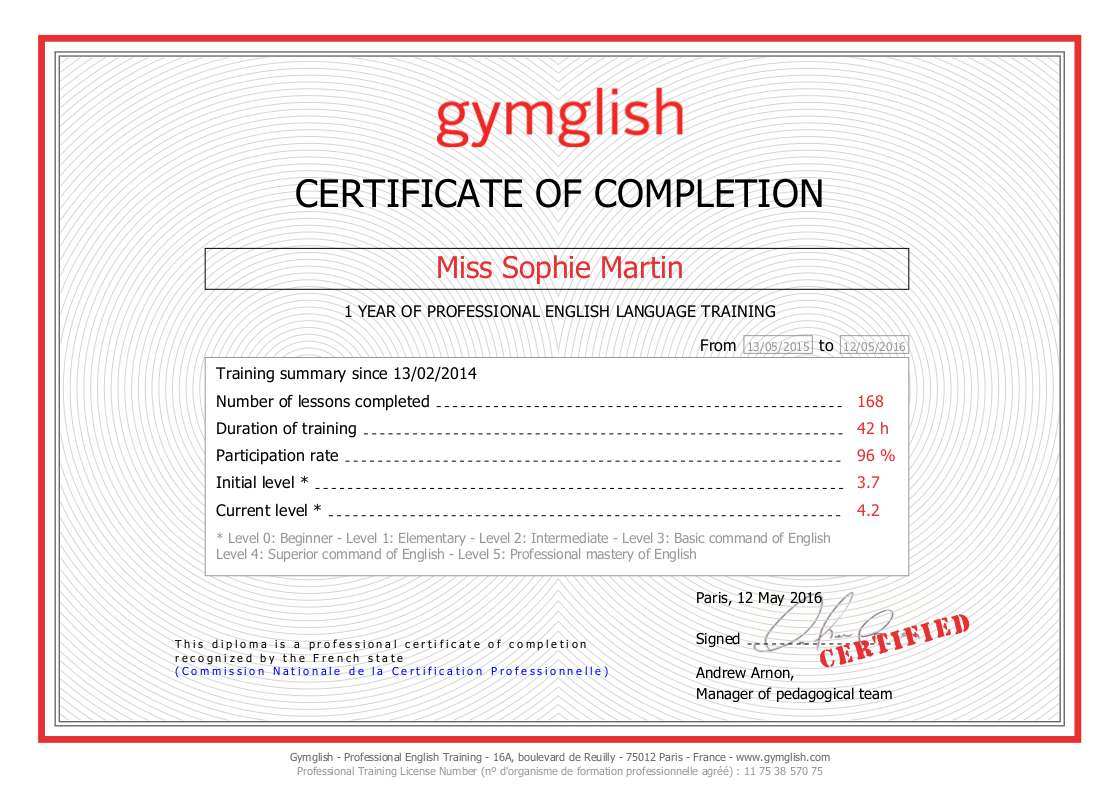 CERTIFICATE OF COMPLETION
Upon finishing your training, Gymglish provides a certificate of completion including detailed statistics on progress and participation rate..
TOEIC® & BULATS
Our course prepares you for the standardized TOEIC® and BULATS tests
CECR & EQUIVALENCE
Gymglish provides students and teachers with the equivalence of their CECR (European reference for language proficiency) levels and projected TOEIC® scores.
GYMGLISH PRO OFFER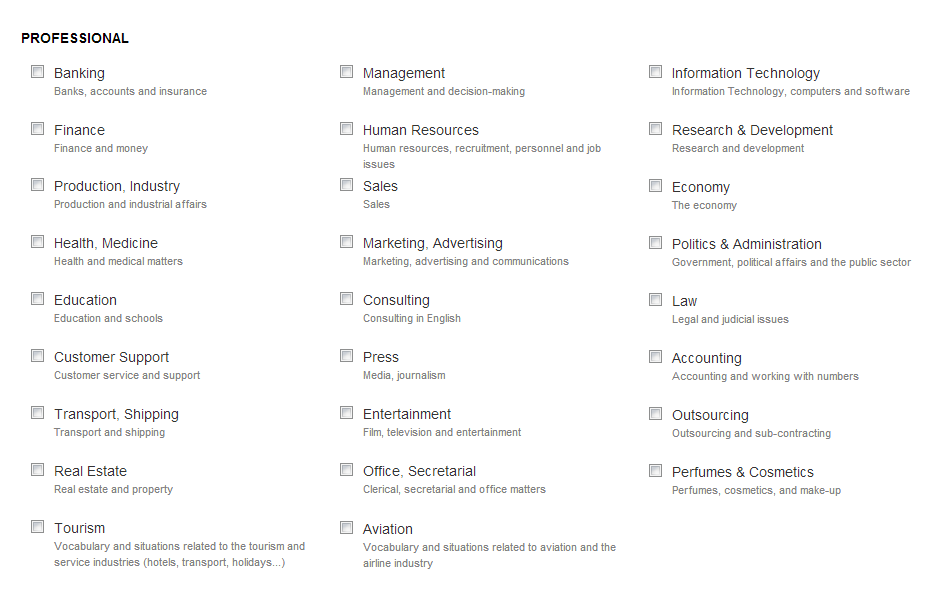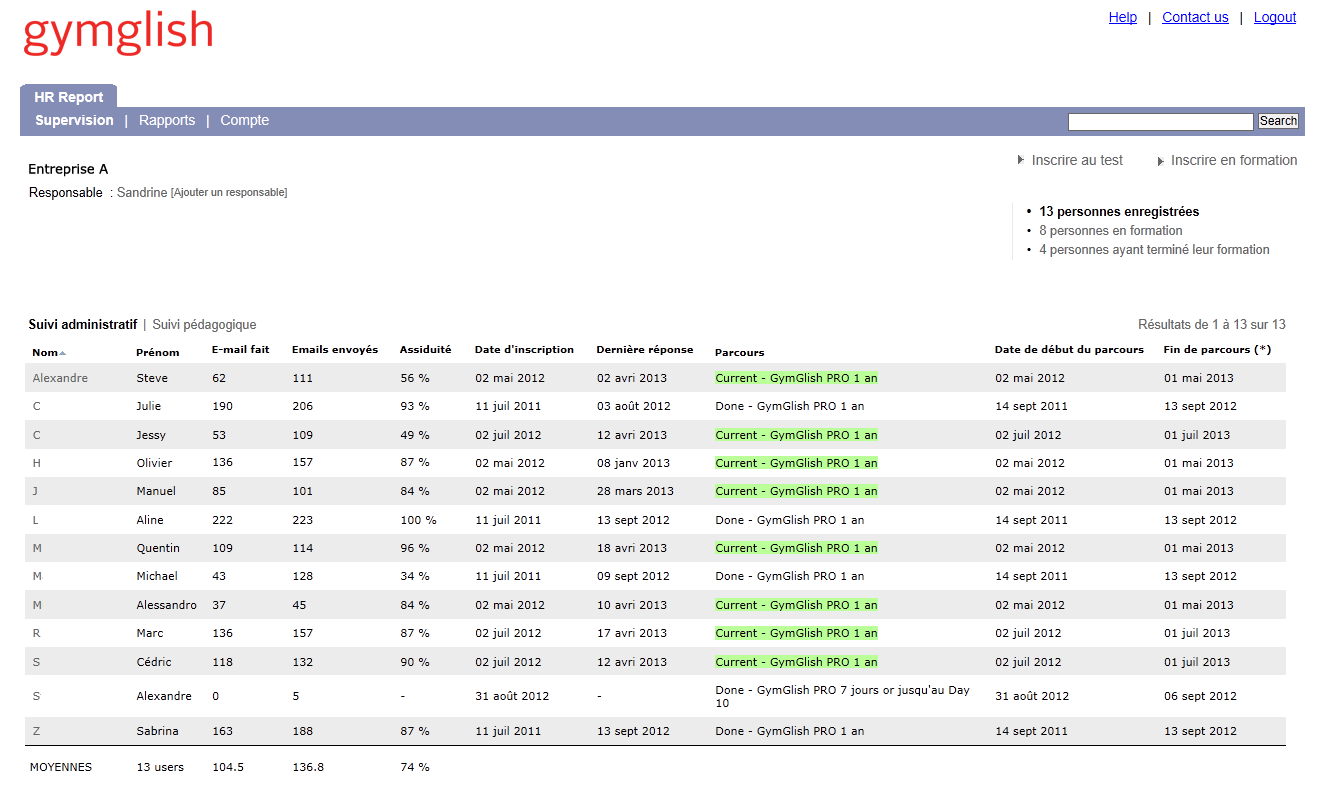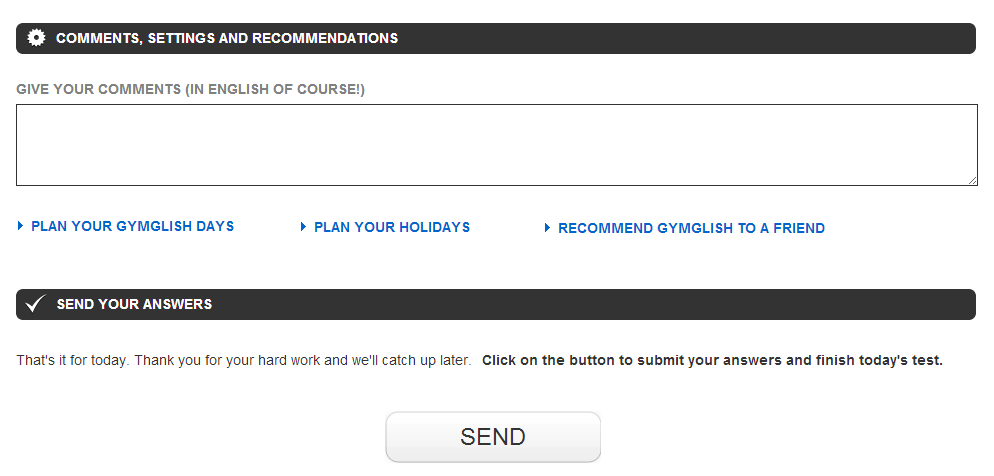 An average participation rate of 80% means users have fun while improving their English. Finally, an efficient method for online learning!
MOTIVATION: a story based on life in the workplace, with professional situations and characters, and a sense of humor.

PARTICIPATION: a daily story, only 10-15 minutes per day, English for everyday or business purposes.

EMULATION: each student advances at his or her own pace, discusses the episode of the day and helps promote participation.
The advantages
Easy to access

Users can complete their lessons at any time during the day from their inbox.

Quick

Gymglish doesn't require a big commitment. Users spend ten minutes on their lessons and the corrections are sent immediately.

High levels of participation

No need to go to a classroom: your lesson comes to you! Gymglish uses quick lessons to jog users' memories every day.

User-friendly

Anyone with an e-mail address can take a Gymglish training course. There are no complicated technical requirements.

More than
1,900,000

users around the world
Find out more >
Rates for professionals
| | | | |
| --- | --- | --- | --- |
| | Max. no. of e-mails | Max. duration | Price/subscription |
| 6 months | 120 lessons | 30 hrs. | €400 |
| 12 months | 240 lessons | 60 hrs. | €540 |
| 24 months | 480 lessons | 120 hrs. | €800 |
| 36 months | 720 lessons | 180 hrs. | €1100 |



Price of Gymglish PRO subscriptions (Prices excl. of tax/subscription)
Bulk discounts according to the number of subscriptions purchased.



Quick, easy deployment. Technical support, HR reporting tools, and the logistics of subscriptions are handled entirely in the online HR supervision space.

Flexibility, replacements. To account for possible staff turnover or unmotivated participants, managers are able to replace one participant per subscription annually. The replacement user will inherit the duration of the original subscription, but will start their own customized lesson plan (or resume their old one if they have already used Gymglish in the past).

Terms of subscription. Each Gymglish PRO subscription entitles a participant to an e-mail with Gymglish language activities each working day for the duration of the subscription. Rates are based on the length of the subscription and are unrelated to the number of lessons actually received and completed by the user.

Five Gymglish lessons per week. The subscriber is entitled to five e-mails per week, delivered each working day Monday through Friday by default. At any time, the user can select different days of delivery for their 5 weekly Gymglish e-mails.

Duration of English training. In accordance with legislation on distance learning and our agreements with state educational organisations, each completed e-mail is considered a 15-minute training period. Within the framework of an annual subscription, for example, a student is entitled to receive up to 240 e-mails of personalized language activities, i.e., a maximum theoretical duration of 60 hours of training. The actual duration of the training period depends on the student's participation as well as holidays and time off. Find out more about ongoing training.
Blended Learning
Gymglish & Teacher is an option for users currently taking English lessons with a teacher (one-on-one, group lessons, by telephone, etc.). This 'Blended Learning' approach uses Gymglish lessons to determine the student's expectations and difficulties, summarizes them, then sends an up-to-date brief to the teacher before each lesson. This option is available to PRO users at no extra cost, and can be activated at any time for any teacher over the course of a Gymglish PRO subscription.